Do you want to access the help that is always available to you?
Saturday & Sunday, January 13-14, 2018
10 AM – 4 PM
Open to all
 No prior experience with Shamanism needed!
This class is a prerequisite for "Walking the Spiral Path" and "Shamanic Apprenticeship"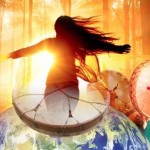 The Shamanic Journey is a method of accessing inner wisdom and connecting with spiritual assistance and guidance. In this class you will learn how to move into an altered state of consciousness to gain access to non-ordinary reality using a the beat of the drum, as well as rattling, singing and/or dancing to receive spiritual guidance.
You will learn to safely journey to the upper and lower spirit worlds to connect with power animals and spirit guides for yourself and others. This is a core shamanic skill based on practices done by the healers, shamans and medicine people or of many indigenous shamanic cultures. Shamanic journeying is used for many different purposes: problem solving, healing, divining (gathering information), and gathering power. This is a skill that will empower you on your path of discovery and healing.
This workshop will:
Ground you in a life-changing practice for spiritual inquiry that fits easily into your busy schedule
Help you to interpret the mythic and symbolic language of intuitive wisdom
Help you connect with your Guidance, Wisdom, and Creativity
Help you access your personal power to live your life as your authentic Self
Give you a method to find answers to life questions and purpose
Help you access information to help others –

Including power animal retrievals and getting information for another person
Guidance, Assistance, and Empowerment is available
through the ancient practice of
Shamanic Journeying



This class is for YOU if you are:
searching for Wellness, Wisdom and Guidance

ready to Empower Yourself to live a richer and more meaningful life

ready to access your OWN answers to questions about Your Life

 at a crossroads and wanting to make a change in your Life

confused and searching for guidance personally, professionally or Spiritually

ready to release old patterns and change limiting beliefs and behaviors
wanting to connect with a power animal totem and spirit guide

ready to experience a greater connection to nature, life, and yourself

called to facilitate healing and empowerment work with others
PreRegistration Required
Regular: $250
Package: Both Workshops in Shamanism as a Personal Path: $470
Save additional $15 – normally $485. By January 12
Shamanic Journeying for Empowerment
Location:
Berkeley, CA – Location given to participants
Disclaimer:
All information in these courses/workshops are for general informational and educational purposes only, and are not intended to diagnose or treat any medical/psychological concerns or to replace or be a substitute for medical or psychological care.  These workshops are not meant to provided healing or treatment for any student or participant for any physical or mental condition. 
The student/participants accepts all responsibility for attending these workshops and for using the information provided in these workshops. 
Although C. Girvani Leerer is licensed as a Psychologist in California (PSY #24631), Massachusetts (PSY #7289) and Arizona (PSY #4687), she is not functioning under these licenses when providing Shamanic Teaching, and she does not diagnose, treat or prescribe for any physical or mental conditions while providing Shamanic classes.
Attendance at these workshops do not constitute a therapeutic relationship or healing relationship between the student/participant and C. Girvani Leerer, Ph.D.