Receive, Deepen and Learn to Pass the Nine Rites of the Munay-Ki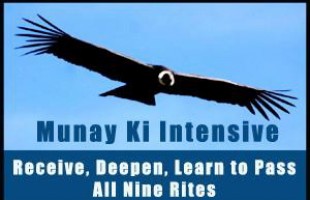 Stay Tuned for New Dates – Contact Me if you are Interested!

Many have felt a calling from spirit and are awakening to make a difference in this world.
We, as a people, are on a vision quest, questing for the vision of who we truly can become.
We invite you to discover the Nine Rites of Munay-Ki and engage the quest for deeper, broader
vision of who and what you truly are.
The Nine Rites of the Munay-Ki are transmissions and attunements distilled from ancient
intiations kept alive and handed down by lineage keepers of the Q'ero Shamans of the
Peruvian Andes.
The rites are transmissions of energetic seeds that, when nurtured, can grow within anyone and
quicken the path to spiritual development and enlightenment, and to the evolution of who
and what we are becoming as a species – to homo luminous.
The Rites of the Munay-Ki transform and upgrade your energy field. Each time we receive
the rites, these energetic transmissions move to a deeper level, transforming and healing
the impressions and wounds of the past – your karmic & genetic inheritance. They re-inform
your DNA, enabling you to grow a new body – one that ages, heals, and dies differently.
This is our human birthright and path.
By choosing to work with these Rites you accept who you are becoming. We are honored to
share these Rites with you… and teach you how to share them with others.
Join us now on this journey of discovery.
WHAT YOU WILL LEARN
This Munay-Ki Intensive includes learning about the Rite, receiving all nine Munay-Ki Rites,
journeying to deepen your experience and grow the Rites, and learning to transmit each rite
to your classmates. We provide ample mentoring and time to work with these new energies
and incorporate them into your field. We walk you through the teaching methods with plenty
of practice sessions so you are comfortable and well prepared to pass on these rites.