Self Empowerment through a Shamanic Way of Life
Saturday & Sunday, February 24-25, 2018
10 AM – 5 PM
Walking the Spiral Path is a blend of ancient and ancestral wisdom with
modern contemporary shamanism.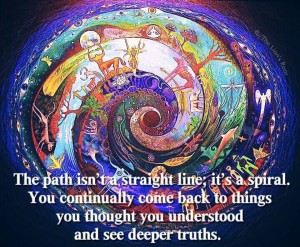 You walk the spiral path from wherever you begin – whether a beginner,
or an experienced shamanic or spiritual practitioner – always deepening your path and growth
to reach Transcendence.
Whether your goal is personal growth, healing and self empowerment;
understanding your own divinity; learning the wisdom of the shamanic world view;
joyful attainment of your dreams; greater understanding your Life's Direction; or
being a healing presence in the world those who choose to walk this path will
experience profound transformation and a renewed sense of purpose.
Walking the Spiral Path uses the medicine wheel, the cycle of the seasons,
and the four elements for direct engagement with spirit through shamanic
journeying, ceremony and healing practices.
Prerequisite: Prior training or experience with Shamanic Journeying with
Girvani or another shamanic practitioner, subject to approval. 
This is for YOU if you want to:
Deepen your relationship with your Helping Allies & Spiritual Guidance
Shed old habits and release what no longer serves you
Access your own inner wisdom and answers
Add spiritual and shamanic practices to your daily life
Use your empathic sensitivity without feeling overwhelmed
Find your authentic voice
Feel more whole, fully in your body, radiantly alive, and positively engaged in life
Walking the Spiral Path
Deepen Your Relationship with Spirit
Create a Personal Medicine Bundle
Experience Your Inner Light
Experience and Learn Ceremony

PreRegistration Required
3 options:
Early by February 2: $235
Regular: $250
Package: Both Workshops in Shamanism as a Personal Path: $470 
Save additional $15 – normally $485. By January 12
Shamanic Journeying for Empowerment
Walking the Spiral Path: Empowerment Through a Shamanic Way of Life
Location:
Berkeley, CA – Location given to Participants
Disclaimer:
All information in these courses/workshops are for general informational and educational purposes only, and are not intended to diagnose or treat any medical/psychological concerns or to replace or be a substitute for medical or psychological care.  These workshops are not meant to provided healing or treatment for any student or participant for any physical or mental condition. 
The student/participants accepts all responsibility for attending these workshops and for using the information provided in these workshops. 
Although C. Girvani Leerer is licensed as a Psychologist in California (PSY #24631), Massachusetts (PSY #7289) and Arizona (PSY #4687), she is not functioning under these licenses when providing Shamanic Teaching, and she does not diagnose, treat or prescribe for any physical or mental conditions while providing Shamanic classes.
Attendance at these workshops do not constitute a therapeutic relationship or healing relationship between the student/participant and C. Girvani Leerer, Ph.D.